The Secret for Younger Kids
Fancy raising your children to know that they can have, do and be absolutely anything they want in their lives. With 'The Secret', we adults now have more knowledge and understanding that we can use to develop and support and encourage our little people.

• But can you explain to kids how to use the Law of Attraction?

• Can we show them the power of visualization?

• Goal Setting is an adult concept – can little kids understand this?
Yes, Yes and Yes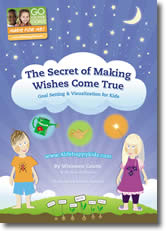 Certainly, take the time to sit down and watch 'The Secret' with your kids, grand children, nieces, nephews or any child that you are close to.

Then take the next step with your kids and discover this fantastic process together with 'Go for Your Goals – for Kids'
'Go for Your Goals – for Kids' is two Kids Workbooks (different for appropriate age groups) and a great Parent's Guide.

Goal setting is rarely taught in schools, but is one of the most important skills we can give our children. This set of 3 books is a brilliant fun program to follow for children with their parents, teachers or grandparents. Walk through the goal setting process with your child with fun exercises and examples. Children learn what a goal is, why it is important, what specific steps to take, and the importance of visualization.

Once they understand this skill and have success with it, they have it for life.

Kids are 'naturals'; they know how to wish; they know how to visualize. Just go for it.
Your kids can do, have and be ANYTHING they want...
Parents, please tell us about some of your experiences with your children and how you are encouraging them with The Secret knowledge. Please tell us your success stories with 'Go for Your Goals – for Kids'

Teachers, we would be thrilled to know about you using 'Go for Your Goals – for Kids' in your classroom.

Contact us with your successful kid's stories